This blog was authored by Alex Hryhorczuk, Director of Data Services and Analytics at Third Horizon Strategies
Value-based alternative payment models (APMs) are designed to better align the underlying economic structures of health care with incentives for achieving improved outcomes for patients. However, value-based models have yet to be adopted at scale for a few health conditions where the services are siloed away from primary care or hospital-centered providers. Substance use disorder (SUD) tops this short list – a condition that impacts an estimated 16.5 percent of people 12 and older in the United States, or 46.3 million Americans.
Expanding and aligning the incentives for SUD treatment and recovery services can increase the proportion of this specific population with a sustainable path to recovery. Sustained recovery is associated with improvements in physical health status that, in turn, will have a material financial impact for key health care stakeholders at all levels including employers, governments, payers, and providers.
For example, Third Horizon Strategies' own analysis of 2.4 million Medicaid claims in Illinois (2021) divided members into two cohorts—those with a SUD diagnosis within the last two years and those without – found that the SUD cohort cost 3.4 times as much per member per year compared to non-SUD members in the same time frame.
Furthermore, members of the SUD cohort were more than twice as likely to have an emergency department (ED) visit within the last year, and over four times as likely to have multiple ED visits. CPT codes for ED visits range in complexity across five categories from the most straightforward (99281) to the most comprehensive (99285). Not only did the SUD cohort experience an increased level of ED visits, but they were also overwhelmingly classified with more severe CPT codes. Forty percent of all visits were coded to the highest category, meaning patients presented with problems that "pose an immediate threat to life or physiologic function." Less than a quarter of cases for the non-SUD cohort fell into the same category. [Figure 1]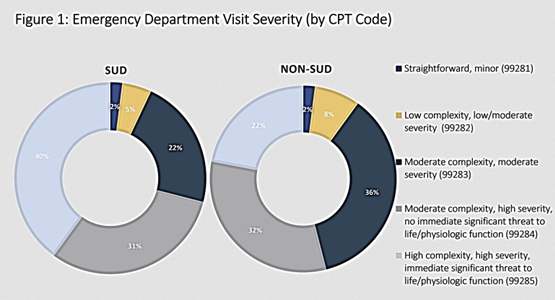 There are clear moral and operational imperatives for incentivizing long-term, aligned SUD care across a broad continuum and coordinating care further upstream. To the extent that life-threatening emergencies are preventable and chronic health issues are treatable by more deliberately addressing underlying SUD-related risk factors, all vested stakeholders – including employers, hospitals, insurers, and public entities –also have a strong financial incentive to participate in improving care for those with SUD.
The Alliance for Addiction Payment Reform has created a simple interactive Value-based SUD Opportunity Calculator that estimates the potential savings opportunity generated by implementing value-based SUD care. Providers, payers, employers, and publicly funded health programs have instant access to estimates of annual health savings based on the size of the populations they serve and specific rates of SUD within them. We invite you to explore the new tool here.