Incentivizing Recovery, Not Relapse.
The Alliance for Addiction Payment Reform is a cross-sector learning collaborative that has brought together leading health experts and stakeholders to support the design and implementation of alternative payment models for SUD since 2017. The Alliance published the Addiction Recovery Medical Home – Alternative Payment Model (ARMH-APM), a consensus open learning model that is continually updated every two years. Since its publication, the model and accompanying work has become a core driver behind components of federal and state Medicaid value-based payment policy and managed care and self-funded commercial insurance pilot explorations. From 2018 through 2022, the Alliance met as a membership-based entity. Starting in 2023, the Alliance will operate as an open-source learning collaborative in the spirit of furthering these principles and ideas.
The uniting purpose of the Alliance is to host a learning collaborative that will advocate and support the transformation of payment and delivery of addiction health services through the integration of early intervention, treatment, and recovery resources, as well as key operational components, measures, payment methodologies, tools, and practice guidelines.
We believe…
A radical shift in how we pay for substance use disorder (SUD) care delivery and recovery services is critical for improving recovery rates, lowering unnecessary cost, and driving broader systemic value through the reduction of other comorbidities. The rapid convergence of new data, contracting methods, and evidence-based care models are poised to transform the nature of treatment and recovery services for addiction across the country.  
A system that will incentivize recovery. Not relapse.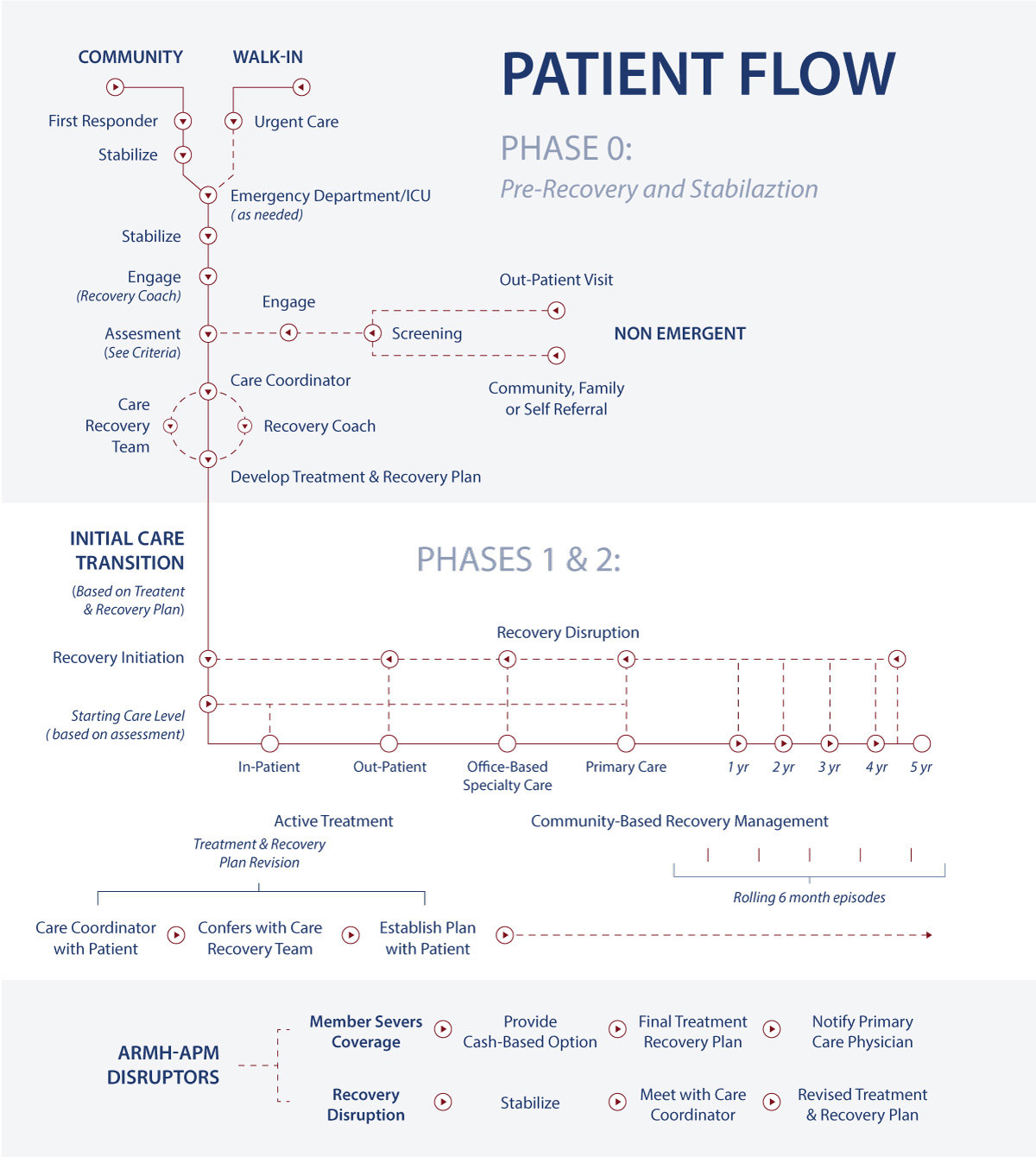 Patient Flow
The proposed payment model is designed to promote improved integration of treatment and recovery resources with corresponding financial incentives that inure to the stakeholders' benefit when the patient's recovery journey is well organized.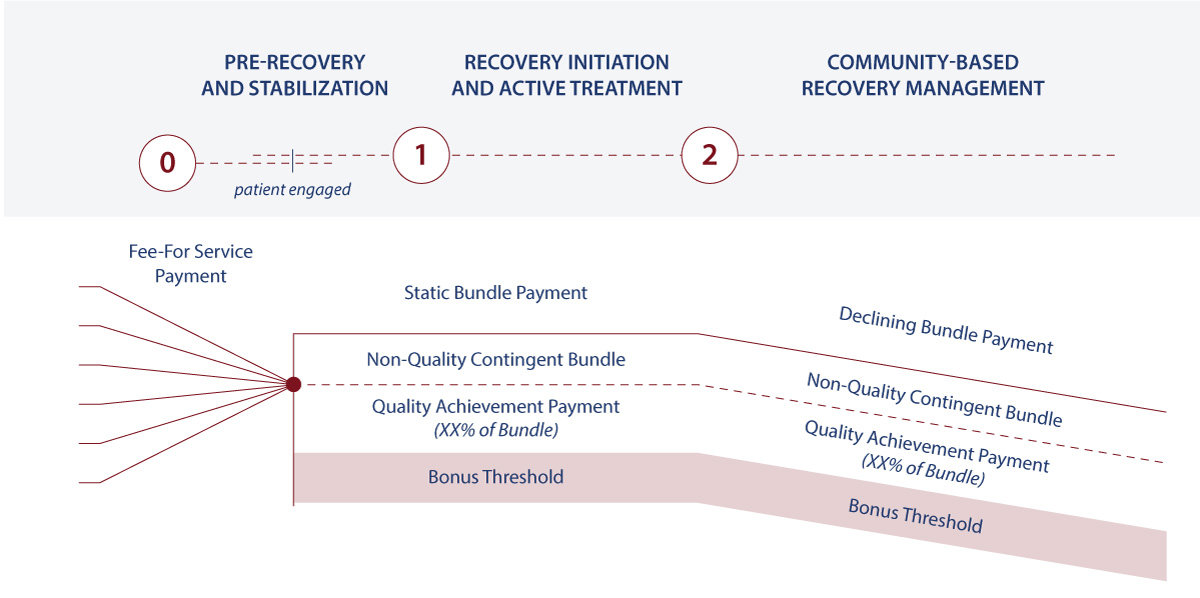 Payment Types for Episodes of Care
The ARMH is a unique hybrid of several payment models that correspond with the critical domains of a patient's recovery. The model leverages three key payment modalities across different phases of recovery.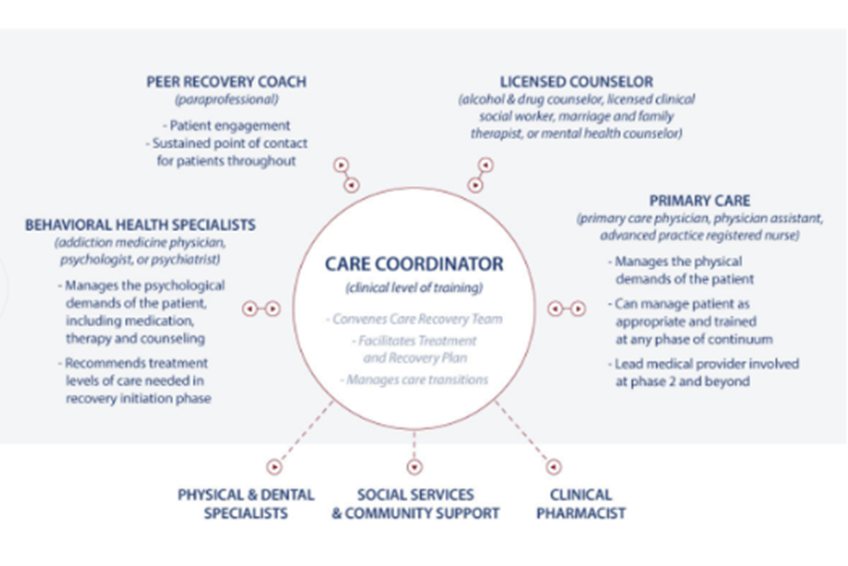 Multi-Disciplinary Care Recovery Team
The core care team consists of a care coordinator, peer recovery coach, a primary care provider, licensed counselor, and a behavioral health specialist (psychiatrist, psychologist, or an addiction medicine doctor).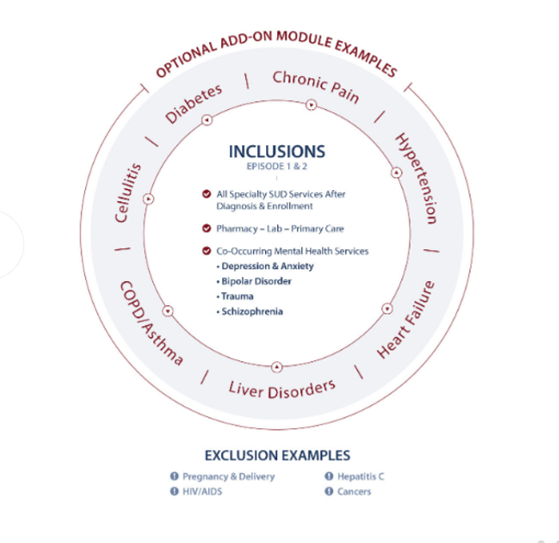 The Alliance continues to define the specific attributes of the ARMH-APM episodes of care. Model deployments can choose between two approaches: a specific mental health and substance use disorder approach or an optional, fully- integrated approach.
Alliance for Addiction Payment Reform Conveners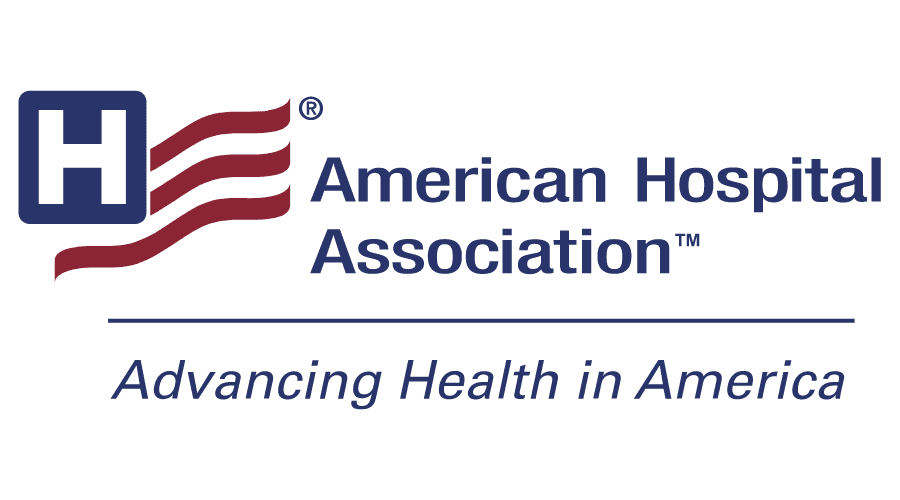 American Hospital Association